Ticket
About tickets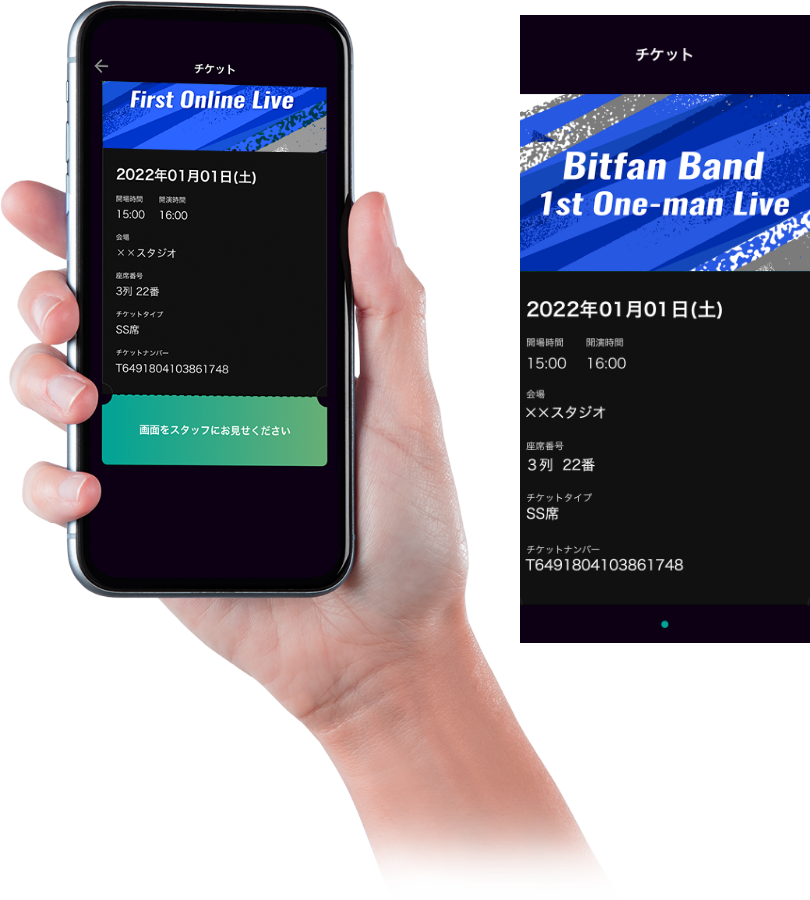 Easily sell the tickets. You can sell the tickets by yourself easily either online or offline events.

What you can do with the tickets in Bitfan.
E-ticket

It is easy and free for anyone to sell tickets online or offline.

Members-only sales

It is also possible to sell only to fan clubs established on Bitfan.

Seating allocation / Reference number

A numbering function such as assigning a reference number is also implemented.

Ticket collection/QR

You can choose between screen contact and QR scanning as the ticket collection method.

Various payment options

Payment by various credit cards, convenience store, and PayPal is accepted.

Granting points

Users can accumulate points based on actions such as purchasing tickets.

Rate of return

The ticket return rate is one of the highest in the industry, 92% to 95.2%. Click Here for more details.
You can buy the ticket via
Bitfan PASS App.
Let's get started
Get started with Bitfan
FAQ
FAQs
Bitfanでは、
・電子もぎりチケット (有観客イベント向け)
・QRコードチケット (有観客イベント向け)
・配信チケット
の販売が可能です。
販売方法や購入方法について詳しくはこちらをご覧ください。
Bitfan Passアプリとは、Bitfanで販売されているチケットの購入、発券、入場ができるアプリです。
Bitfan IDをお持ちの方であれば無料でご利用いただけます。
ご利用の際には推奨環境を必ずご確認ください。
推奨環境を満たさない端末の場合、予期せぬ動作が発生する可能性があります。
また、Bitfan Passアプリは日本国内のみの配信となっております。
▼アプリのダウンロード(無料)はこちら
Bitfan Passを使って入場する方法について、詳しくはこちらをご覧ください。

まずはイベントが中止される旨をユーザーに通知してください。(通知方法について詳しくはこちら)
また、新規で申し込みができないように、サイト管理画面の「チケット>イベント」から
該当のイベントの公開設定を「非公開」に設定してください。
※操作方法については、Bitfanガイド チケット販売方法をご参照ください。
すでにチケットが売れていて、お客様へチケット代金の返金が必要な場合、
通知機能や個別連絡機能などを利用して、ご対応をお願いいたします。
※個別連絡機能について、詳しくはこちらをご参照ください。
If you want to receive push notifications
about the latest news from artists
GET Bitfan APP
Download Bitfan App